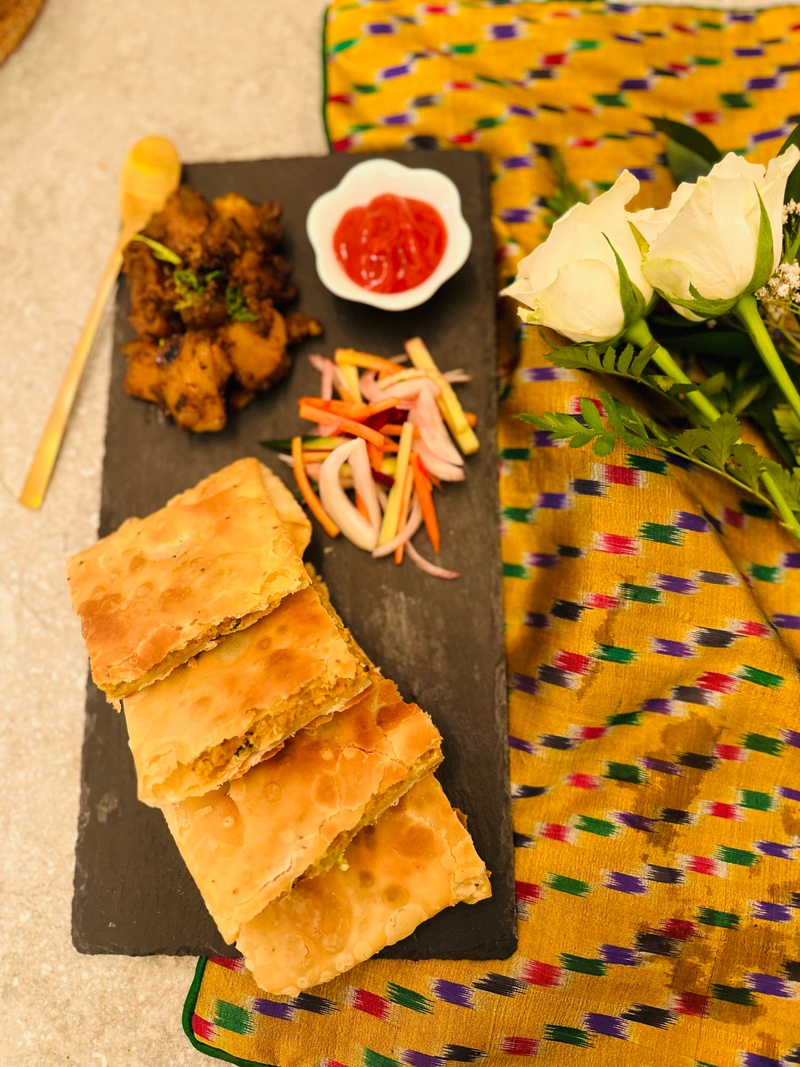 Kolkata street food is famous. We all have our favorites. Sharing one of my favorites here – Mughlai Paratha. Now, though I have had Mughlai paratha at quite a few places, I am biased towards a small but renowned sweetshop in my chotobelar para – Ballygunge – called Mukherjee Sweets. They used to make this crispy, flaky Mughlai paratha with the best spicy alur torkari that I have had anywhere. Even the cabin salad that they used to serve with kashundi had a different taste. The shop is still there but it's been ages since I have had one from there. Now living far away I try to recreate the same magic from time to time that reminds me of those fond childhood memories.
Ingredients (for 3-4 servings)
For the dough:
Maida – 2 cups
Salt – ½ tsp
Sugar – ½ tsp
Oil – 2 tbsp
Carom Seeds – a pinch
Water as required for a soft dough
For the filling:
Minced chicken – 200 gms
Bay leaf - 2
Onions – 1 finely chopped
Ginger garlic paste – 2 tsp
Tomato – 1 chopped
Turmeric powder – 1 tsp
Kashmiri red chilli powder – 2 tsp
Corriander powder – 1 tsp
Cumin powder – 1 tsp
Green chillies – 2 finely chopped
Corriander leaves – few sprigs chopped
Garam masala powder – 1 tsp
Salt to taste
Eggs – 3-4
Oil for frying and cooking
Method
To cook the filling, heat oil in a pan. Add bay leaf and chopped onions. Saute till slightly brown. Add ginger garlic paste. Stir for a minute. Add the tomatoes and the dry spices mixed with little water. Stir till the masala is fried. Now add the chicken and mix well. Add salt as per taste. Cook uncovered till the chicken starts to leave water. Cover and cook for 5 minutes. Add the green chillies, coriander leaves and garam masala. Mix well and take it off the pan. The mixture should be dry.
To make the dough, add flour in a large bowl. Add salt, sugar, carom seeds and oil. Mix it with your hand till it has a crumbly texture. Now start adding water in batches and mixing it well. Knead into a soft dough. Coat in little oil and set aside to rest for 30 minutes. Now divide into 3-4 round balls. Roll the balls into thin parathas.
Prepare the egg mixture, by whisking one egg into a bowl, add some chopped onions, chillies and some of the chicken filling. Add this to the paratha and fold from all the sides.
In a pan, heat enough oil and shallow fry the paratha on medium heat on both sides. Remove from the pan onto a paper towel. Rest for a minute before cutting it into small squares. Serve it hot with dry alur torkari or simply have it with some salad and tomato ketchup.